I love Workout Wednesdays! If you don't hop over to SkinnyMeg to get new workout ideas, you are crazy lol. I love getting new ideas, so I am all over that shit :P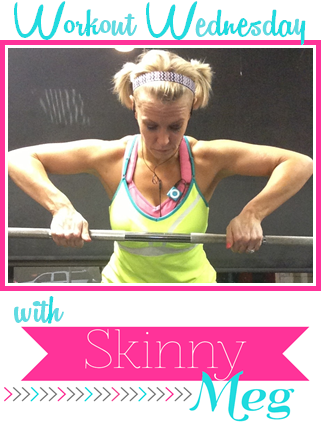 Today my workout contribution is a remix on my 300's workout! To switch it up, I am throwing 3 new moves into the equation. Instead of Jumping Jacks, do Mountain Climbers. Instead of Push-ups, do Tricep Dips and instead of Squats, do Lunges! This switch up with get you working different muscles, which is always good.
And onto my GIVEAWAY!!
I was approached by Bestowed Box to do a review and giveaway. I was really excited because I think the whole delivery box thing is a great idea. We are busy people, and if healthy foods can come to us, that helps everyone! Something I really loved about the Bestowed box was that I can buy the same items in the store. So if I fell in love with anything, I could always get it again! Here is my box:
So many cool things!
I really loved a lot of the products in the box. I discovered Hemp hearts, which I am so happy about! I saw them at Costco, but I didn't feel comfortable buying a Costco sized bag to try it out. I love them! They are a little nutty I guess, kinda like unshelled sunflower seeds, but smaller… and I love adding them to my oatmeal! I have no idea how you are supposed to eat them, but they work really well in oatmeal. I really liked the Arrow Mills oatmeal too! It was really easy to use and I loved that it didn't have any chemicals or fake stuff in it!
I added the Roots blueberry superfood powder to smoothies which was great and I used the Olive Oil to cook with :D I also got these awesome aromatherapy moist toilettes that I loved. I love eucalyptus and so I was excited to have a eucalyptus towel in there :D
All in all I am really happy with the box! I loved all the products! And here is the fun part!! Enter in the rafflecopter giveaway below for your chance to win, and EVERYONE is getting $5 off their first box if you want to give it a try!!
a Rafflecopter giveaway
>