Holy weekend from hell my friends. Wow. Well I learned a couple things this weekend about myself and my body. Coming out of a cleanse into a weekend filled with a birthday party and a friend's night is not the best choice. Everything I "couldn't" eat during the advocare 10 day cleanse, I ate this weekend… As of this morning, I have gained back two of the lbs I lost, BUT my husband gained back 9 of the 25 he has lost recently, so at least I didn't do that bad. We both woke up this morning and decided that we felt like CRAP so we were ready to get back on the right track.
Also, holy crap we leave for vacation on Saturday! I am pretty excited for the week full of guest posts awaiting you next week. Question: Do you want one of those posts to be this link up? I can make that happen. I wouldn't want you to miss a week of goals. Let me know in the comments.
Onto last week's goals.
1. Go Run Outside- I did this! Only twice, but I did it! I need to get out there more often. I loved running on the trail behind my apartment. The scenery was a welcome change to the gym. Some of my 10 week challengers posted their photos too, so I will be sharing those this week :D
2. Take my dog Max for a long walk every day- At the end of the day when my husband gets home, we have made a new routine to go on a mile- 2 mile walk with Max before dinner. It's a nice time together and we get to wind down from our days. I like it :D I hope it sticks.
3. Try a new recipe- I did this one! I made Artichokes in the Crock Pot from
this recipe
from
Family Fresh Meals
. We love artichokes, but we normally just boil them, so I was excited to try something new! This turned out really well! They were well seasoned, and cooked more so you get more off the leaf. If you haven't made artichokes, or have never eaten them because you are scared, try this recipe. It is practically fool proof. Some people dip their artichokes in butter, or mayo or holindaise. I just like a little fresh squeezed lemon juice :D YUMMY!
Onto this week!
It's hard to believe, but this is the last week of the 10 week challenge! I am no where near where I wanted to be, but I am happy I had such an awesome support group with me along for the ride. This week's goal is to finish strong. You know what to do, do it!
I really want to get out on the trail this week and pound the pavement. And since we will be driving 13 hours on Saturday, I will probably want to get out and run once we get there. It is definitely going to be a struggle for me to stay on track on vacation, but I know I can do it, and I can't wait to share how I did :D
One thing I really noticed this weekend is that certain food makes me feel like crap. And not necessarily all crap food. I am lactose intolerant (but I ignore it because I love cheese…) and I don't understand why I do that. I don't feel good at all when I eat it, but it tastes good so I keep doing it? Same thing with red meat. I like the way it tastes, but my body doesn't feel good after I eat it. So I goal this week is to just eat what feels good. I want my body to feel good, even if that means I wont get to eat cheese lol. Have you noticed certain foods just hate your stomach?
Making goals this week? Link them up with me! Next Monday is the half way point for this year! I can't believe 2013 is half way over! Did you make the first half count? Setting goals every week can help you keep on the right track!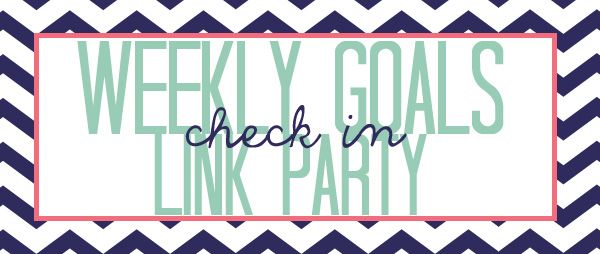 <div align="center"><a href="http://www.operationskinnyjeans.com/search/label/Weekly%20Goals%20Link%20Party" title="Operation Skinny Jeans"><img src="http://i1304.photobucket.com/albums/s527/operationskinnyjeansblog/weeklygoallink_zps35065b07.jpg" alt="Operation Skinny Jeans" style="border:none;" /></a></div>