Only two more weeks till I leave for my trip to California! Side note- I am looking to have guest bloggers that whole week, so if you are interested, shoot me an email! I would love to feature you!
On that note:
Maybe it's just me, but I seriously can't believe we are half way through with JUNE! The 10 week challenge is coming to a close, with just two more weeks left, and I can't even believe how fast it has gone! It has made me realize that today is really the only day we have. Because it will be tomorrow far too soon. ANYHOO, onto my goals.
Last week…
1. Eat Clean. I am half way done with the Advocare Cleanse so I have been trying really hard to eat clean. I am not going to lie that a few times I settled for "homemade" rather than true clean, but I didn't use any processed ingredients so I am going to call it okay :D Eating perfectly clean all.the.time is really a challenge for me.
2. Make time to work out. I did better with this this week. I just started a new job today where I will be working from home, and I think that will make this a lot easier. I will have an hour and a half every morning after my husband goes to work before I have to start work. My plan is to spend that sweating and blogging.
3. Stick to the plan. Like I said, I did okay. But when I deviated, I still made good choices, so I am happy with it.
So over all not a terrible week!
This week….
This week the mini challenge for the 10 week challenge is to take a run outside. It is beautiful out and breaking away from the treadmill can do you some good. Road running is a lot different than treadmill running, so go out there and run! Take a photo of yourself running and post it to our fb group, my page, twitter or instagram with the hashtag #goalonegorun and I will feature them next week :D
Like I said above, I will be working from home now, so it will be nice to get out and walk my dog Max. My goal is to go out at least once a day.
I am always looking for new recipes to try, so this week my goal is to actually try one!
Making goals this week? Link them up with me!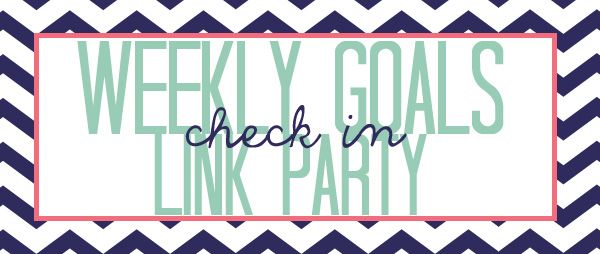 <div align="center"><a href="http://www.operationskinnyjeans.com/search/label/Weekly%20Goals%20Link%20Party" title="Operation Skinny Jeans"><img src="http://i1304.photobucket.com/albums/s527/operationskinnyjeansblog/weeklygoallink_zps35065b07.jpg" alt="Operation Skinny Jeans" style="border:none;" /></a></div>