So this morning I woke up a little late (my bed was soooo warm) so I was fishing around the internets for something to write about. Thats when I came across Holly at Where We Can Life Like Jack and Sally's Link up today about weddings. I realized I have never actually blogged about my wedding, which was 2 and a half years ago, and it has a fun story behind it, so here we go :D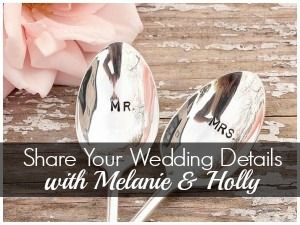 I was married to the love of my life (awww!) on November 27, 2010. This was after planning a May 13, 2011 wedding for about 18 months. We had the venue, colors, catering, flowers, CAKE all of it planned out for our big May wedding, but on November 13th, I had a decision to make. NO I wasnt pregnant, but EVERYBODY at our wedding thought I was :D
My Grandparents were coming into town for their 50th wedding anniversary over Thanksgiving and my Grandpa wasn't in stellar health. He wasn't sick, he just didn't really travel well, and it was becoming a reality that he wouldn't be able to come out for my wedding. This broke my heart. I sat down with Andy (my husband) and said "I think we should get married while my Grandparents are here" and he said "Can we get back any of the money we put down?" and I said "If we cancel tomorrow, yes, but tomorrow is the deadline to get any back." and he said "Well then, lets do this!"
So the next day I called our wedding coordinator at our venue (who we had become pretty close with) and she was sad to see us go, but happy that we were going to have my Grandparents there. We canceled every thing else and had to decide on a date. They were in town for two saturdays, and one was their 50th celebration, so we decided on the other. It was time to get to work. We had two weeks.
We sent an email out to close friends and family that we were moving up our wedding and that it would be in two weeks, and that no I wasn't pregnant (not that they believed me) and that the bridal shower would be the Sunday before.
Location: A small clubhouse in Andy's parent's neighborhood that we used for other family events before. We had Qdoba catering, and a cupcake place near by for the cake. We went to Party City to get decorations (black table cloths, yellow plates and napkins) and King Soopers for the flowers (sunflowers).
Bridal Party: My best friend Alex and Andy's best friend Leo
Colors: Black and Yellow
First Dance: We danced to The Only Exception by Paramore
Honeymoon: Because we saved so much money on our wedding, we were able to go on our honeymoon to Orlando for a week in May. It was awesome.
What would you change: Not a damn thing. It was a small wedding, like 40 people, and we didn't even have an officiant (you don't need one in Colorado). We walked down the aisle, Andy said his vows (that he wrote) to me, I said my vows to him, we kissed. Held hands and said "Lets do this thing!" and walked back up the aisle. My sister was there via skype (she lives in Northern Ireland) and it was pretty awesome. There was a little family drama happening, and I would change that so everyone I love could have been there, but that really is the only thing. The big white wedding we had planned was so not us.

Side note: My Grandpa passed away unexpectedly in February 2011. He would not have made it to my May wedding. I thank god every day that I made the choice I did to have him there on my wedding day.
My Wedding Party
And just in case you have 4 minutes to burn, here is the slideshow video I put together.