So this week I wrote my goals on a sticky note and put it on my desk! That definitely helped me stay on track!
And since we are now out of April, I wanna recap and set my monthly goals too. Yep, I am a goal setting fiend. I really think making goals helps me stay accountable to them.
My April Goals:
Go to the gym 20 times in April-
I think I failed this one. We didn't actually count, and thats probably why…
Complete No Weigh April without cheating-
I did it :D I am not sure it was the best idea for my weight loss, but I do think it helped me break my obsessive weighing problem.
Get 10,000 steps for a whole week straight-
I did this one too :D I love by Bodybugg and it helped me track this goal :D
Run for 3 minutes straight-
lol I nailed this one :D This is the goal I was working on when I ran a mile for the first time in my whole life :D
Try 3 new recipes and blog about them-
Ok this one was a fail. I have no clue why it is so hard for me to blog about recipes! I took pictures and everything…. must.write.one.this.month
Not bad on April. I met some really great goals, but I failed a couple too. I want to strive for 100% in May.
My May Goals:
Go to the gym 20 times. This is definitely do-able if we just try.
Weigh in only once a week. I got my scale back, I can do this!
Run an outside mile
Do another 5K
Buy a bikini… I need to remember my
goal
to get in that thing this year.
I will be tracking these goals in my
"Goals"
tab :D
Now lets recap last week's goals!
1. Makeover my refrigerator- Nailed this one :D I didn't take any pictures, but we cleaned it out, and repackaged everything :D It has been great so far.
2. Do core everyday- I missed two days on this, but it was a good goal for me to do, and I wanna do something like this every week in the future.
3. Pack good snacks- Thanks to my fridge makeover, I had ziplock bags of great snacks and I snacked like a rock star this week :D
This week for the 10 week challenge, the mini challenge is to find your inspiration. I have tried to lose weight for a friend, for a wedding dress, and for a blog. This is the first time I am losing for the right reason, and that is my inspiration :D I'll be sharing all about it on Tuesday.
I did pretty well with the core challenge, so this week my goal is to do squats every day. I know a bunch of people who are doing a squat challenge in May, but that has you doing squats in the hundreds, and aint nobody got time for that :D So I am doing my own challenge.
I did really well with this by packing good snacks last week, but this week I am going to actually count my fruits and veggies. This is definitely something I struggle with, so I am gonna work on it this week.
Are you setting goals? Link up with me!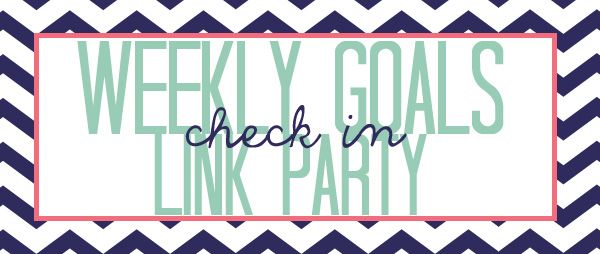 <div align="center"><a href="http://www.operationskinnyjeans.com/search/label/Weekly%20Goals%20Link%20Party" title="Operation Skinny Jeans"><img src="http://i1304.photobucket.com/albums/s527/operationskinnyjeansblog/weeklygoallink_zps35065b07.jpg" alt="Operation Skinny Jeans" style="border:none;" /></a></div>