Happy Memorial Day everyone! I hope you are all enjoying your holiday and made good choices at any BBQ's this weekend :D
I want to thank everyone that has given their lives in the fight for our freedom, and everyone who has put their life on the line. This is what Memorial Day is about :D
Onto the goals! First I want to thank all of you that link up for joining me week to week! I love seeing how you are doing and I have found lots of new blogs I love to read through this link up! I definitely encourage you jump around and meet other awesome bloggers :D
Last week, my goals were:
1. Our 10 Week Challenge is going STRONG! There are so many people dropping pounds like they're hot and I am so inspired by everyone! This week our Mini Challenge was to drink water! I did awesome and it really helped to pay attention and make a conscious effort to get all my ounces in.
2. Finish week 2 of the DHCC strong. I did it! In case you missed my
recap on Friday
, we won!!! And I was 2nd among our team for going the most times in the two weeks. I am so proud of myself!
3. Don't fall off the wagon. I actually did well with this this week! We had ANOTHER pot luck at work on Friday (lots of birthdays…) and I did okay! I didn't go crazy, but I did try everything. I think moderation is key :D
So this week!
This week's Mini Challenge is to Track Track Track! I will be honest, I haven't tracked in a couple months :/ I really have noticed my loss is less consistent without tracking and I want to get back to it. This week I wanna focus on that.
Now that the DHC Competition is over, I need to get back into a normal routine. We are planning what workouts and what days we are going to work out this week, and I plan to stick to it.
I would really say the secret to my success has been keeping my body consistently fueled. I don't let myself get hungry because when I get hungry, I have a harder time controlling myself and making better choices. It takes a lot of planning but I try to eat roughly at 6, 8, 10, 12, 2, 4 and 6. It works out well because I finish working out at 6, get to work at 8, take a break at 10, lunch at 12, break at 2, leave at 4 then eat dinner at 6. It seems like I eat all the time, but it helps me stay in control.
Are you making goals this week? If so, link them up with me!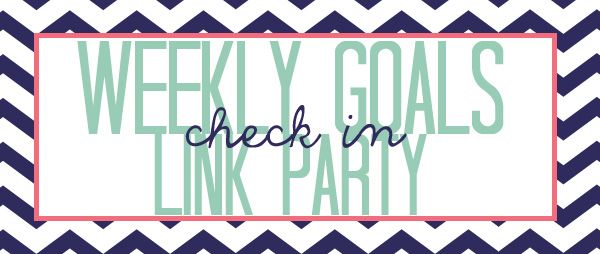 <div align="center"><a href="http://www.operationskinnyjeans.com/search/label/Weekly%20Goals%20Link%20Party" title="Operation Skinny Jeans"><img src="http://i1304.photobucket.com/albums/s527/operationskinnyjeansblog/weeklygoallink_zps35065b07.jpg" alt="Operation Skinny Jeans" style="border:none;" /></a></div>