What a week this has been for me! My idol Skinny Meg is so inspirational and I am so glad she brought so many of you here :D So welcome and thanks for coming by!
Every week I make 3 goals, and report on how I did on the next Monday. I really believe setting small, achievable weekly goals are the stepping stones to success. They keep you focused throughout the week, and they keep you accountable. I would love for you to join me if you are making goals for yourself!
Here are last week's goals!
1. Wear wedges all day.
I did this! And I got a ton of compliments! I wore them to work on Friday with my skinny jeans, and like 15 people at work said something about how cute I looked! I will definitely wear them again!
2. Get 10,000 steps a day.
I met this 5/7 days this week! Monday and Tuesday I got 7500 ish but Wednesday- Sunday I got over 10,000 each day! I am definitely going to try to keep this going!
3. Try a new recipe.
Did this one too! We made Feta and Pesto Stuffed Chicken Breast. It was fantastic! I will try to share the recipe later this week! (sorry I forgot to take a picture!!!)
I think I did good this week! I love the feeling I get when I achieve goals I set for myself. (I also set longer term goals every month up in the goal tab)
Here are this week's goals.
So I have to be honest, I have had a string of about 80% weeks. I have skipped a few work outs, I have eaten out on the weekends, and not always made great choices. I know I have it in me to go all in, so thats my goal this week. Plan every thing I eat, eat right and don't miss a work out. I am ready to challenge myself.
In the same line as above, I need to schedule my work outs. How it goes right now is we wake up every morning at 4 am, decide if we want to keep sleeping (which is almost always yes) then we go after work. I don't mind as long as we get them in, I just want to get on a better schedule. Thats my plan this week.
I have seen recipes all over the internet for Kale Chips and I am really excited to try them out! I LOVE Kale, so I am excited to try it as a chip :D
Are you making goals this week? If so, please link them up! I would love to see how you do!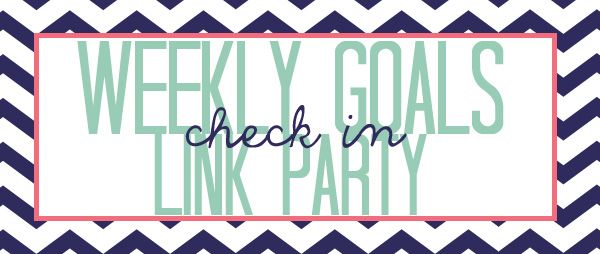 <div align="center"><a href="http://www.operationskinnyjeans.com/search/label/Weekly%20Goals%20Link%20Party" title="Operation Skinny Jeans"><img src="http://i1304.photobucket.com/albums/s527/operationskinnyjeansblog/weeklygoallink_zps35065b07.jpg" alt="Operation Skinny Jeans" style="border:none;" /></a></div>