Happy April Fools Day! I have never really been an April Fools fan, but I love to hear the things people do to each other, so feel free to share :D
I really can't believe we are into the second quarter of the year! I hope you made the first quarter count! I think I did :D
So for last week's goals! Here is what they were:
1.
Get under 250
. If you saw my
WIW post
, you know that didn't happen, and that I have sworn off the scale for the next month. I am relieved for the vacation
2.
Work out 5 days.
Ok I totally killed this one. We worked out 5 days and it was awesome.
3.
Eat 5 fruits and veggies.
I kicked ass at this one too! I had lots of fruit for snacks, apples, cuties, plums, and salad at least once a day (sometimes 2). I felt great and fuller longer :D I am going to keep this up.
New goals! And since I am not stepping on a scale this month, The first goal will now be non scale goals :)
Since I am doing "No Weigh April", I wanted this one to be fun! I can feel my normal jeans getting big, and I have been dying to try on jeans from a store that sells normal sized clothes. Forever 21 has a plus section that goes up to size 20 (but they are smaller measurements than Maurices' 20's) and I want to get a pair. Smaller jeans are kind of what this whole thing is about lol
I have been a beast about the cardio at the gym. My goal this week is to do cardio for an hour, rather than half an hour, at least 3 times this week. I wont be able to run the whole time, which I know, but I can do the best I can :D
To be honest, I do this about 90% of the time anyway, but I want to do it 100% of the time. I sometimes forget to pack something, or leave it in the fridge accidentally, and I don't want to do that. I think that sounds reasonable :D
So there you have it, my 5 goals for the week! Making goals too? Link them up with me! Accountability is huge, and setting goals will keep you more accountable throughout the week.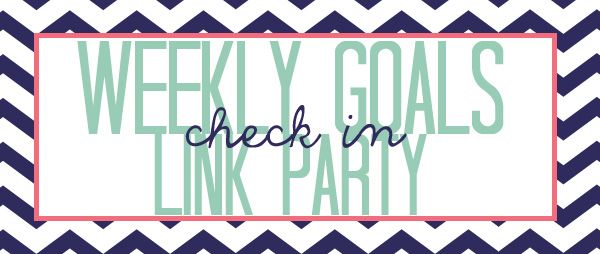 <div align="center"><a href="http://www.operationskinnyjeans.com/search/label/Weekly%20Goals%20Link%20Party" title="Operation Skinny Jeans"><img src="http://i1304.photobucket.com/albums/s527/operationskinnyjeansblog/weeklygoallink_zps35065b07.jpg" alt="Operation Skinny Jeans" style="border:none;" /></a></div>