Welcome to Weigh In Wednesdays! Alex and I both have working digital scales, and since I quit WW, my weigh in day was up in the air so we decided to pick Wednesdays!
Why Wednesday you ask? Well, Wednesday is right in the middle of the week, so your weekend is in the middle. That way you are still accountable on the weekends, but you have a few days to correct any bad choices you made.
We also are linking up with Alex and Erin for their Weigh In Wednesday link party! We are excited to join that group of ladies in accountability and awesome linky ness!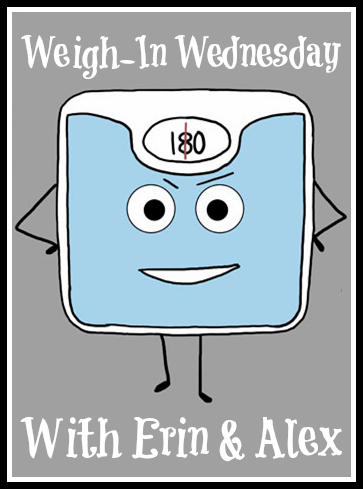 ALSO before we tell you our weights, we wanted to tell you about our Diet Bet!
We love Valentines day over here! (Alex even has some really cute valentines for sale on her etsy store
Briarlea
! ) Anyhoo we wanted to come up with a way to show our bodies some love, so we decided to do a diet bet!
Dietbet.com
is a website where you host a little competition to lose a little weight. You buy in, ours is $10, and you have 4 weeks to lose 4% of your weight. Easy enough! Everyone who does is a winner and splits the pot! So even if one person doesn't win, you at least get your $10 back!
We are so excited to host this and motivate everyone to show their bodies some love! The competition starts 2-15-13 (but you can join any time, even after it starts) and ends 3-14-13. Lets do this!!
Also, if you wanna join, SHARE! The more people who join us, the more money you can win! And we all know money motivates people more than anything else!
Ok ok so now you know all about our diet bet, (and you joined ;) ) we will share our weigh ins!
Oh one last thing. Alex got a new scale! So we are adjusting her starting weight to match her new scale since we are pretty sure her old one was way off. So this will be her starting weight :)
Ok Ok I think we have stalled long enough.
Alex: 302.9! She will be out of the 3's forever in no time!
Jess: 254.6! Down 3 from last week! Woot!
Also, since we started this, our progress weights will start here, and I am resetting to my real starting weight of 285.6. I hate that I worked my ass off to lose those 13 lbs that don't count. SO that means that I hit my 10% today (woot!) and have lost a total of 31 lbs!
Did you weigh in today? Link up with us!