No, I'M not planning on wearing a red bikini any time soon, but Kassie from
Southern Girl Gets Fit
is. She one for fitness inspiration. She and her friend Leigh Ann then decided to create the Operation Red Bikini challenge.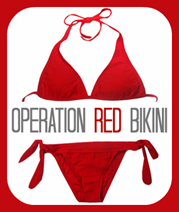 It's pretty simple really.
You pick a goal (scale or non-scale), and
tell Kassie
what it is. The challenge ends on May 31. When the challenge ends, write up a post about your journey (with a photo of you hitting your goal, of course (like in the bikini you picked, or wearing jeans with a size 10 tag). They'll host a link party, and you link up your post.
Then, everyone will vote on the best story/transformation. The winner gets an awesome prize pack!
They're encouraging people who take up the challenge to use instagram to share their journeys, using the hashtag #operationredbikini.
So now, onto MY motivation.
I got this pair of denim shorts for my 15th birthday.
I only remember wearing them once (hence why they look so good so many years later) because I was really self-conscious in them (they were shorter than any other shorts I had, and I didn't often wear shorts anyway because I hated my thighs).
Since my 25th birthday is ten days before the challenge ends, I thought these would be the perfect motivation. I'll be able to begin and end ten years in the same pair of shorts.
These shorts are an Old Navy size 18, and they run small. I'm currently in a 20/22 (22s are too loose, but 20s tend to be just a smidge tight). I realize that going a size or two down in three and a half months doesn't seem like a big deal, but since I've been this size for at least five years (if not more), it's kind of a big deal to me. I can't even get these things over my thighs right now.
On my 25th birthday, I'm going to be slipping my thinner, more toned thighs through those leg holes, and buttoning the shorts at my more whittled waist.
If you the sound of this challenge,
join up
!